Posted by Holy Trinity Mind Body Soul on 16th Jun 2021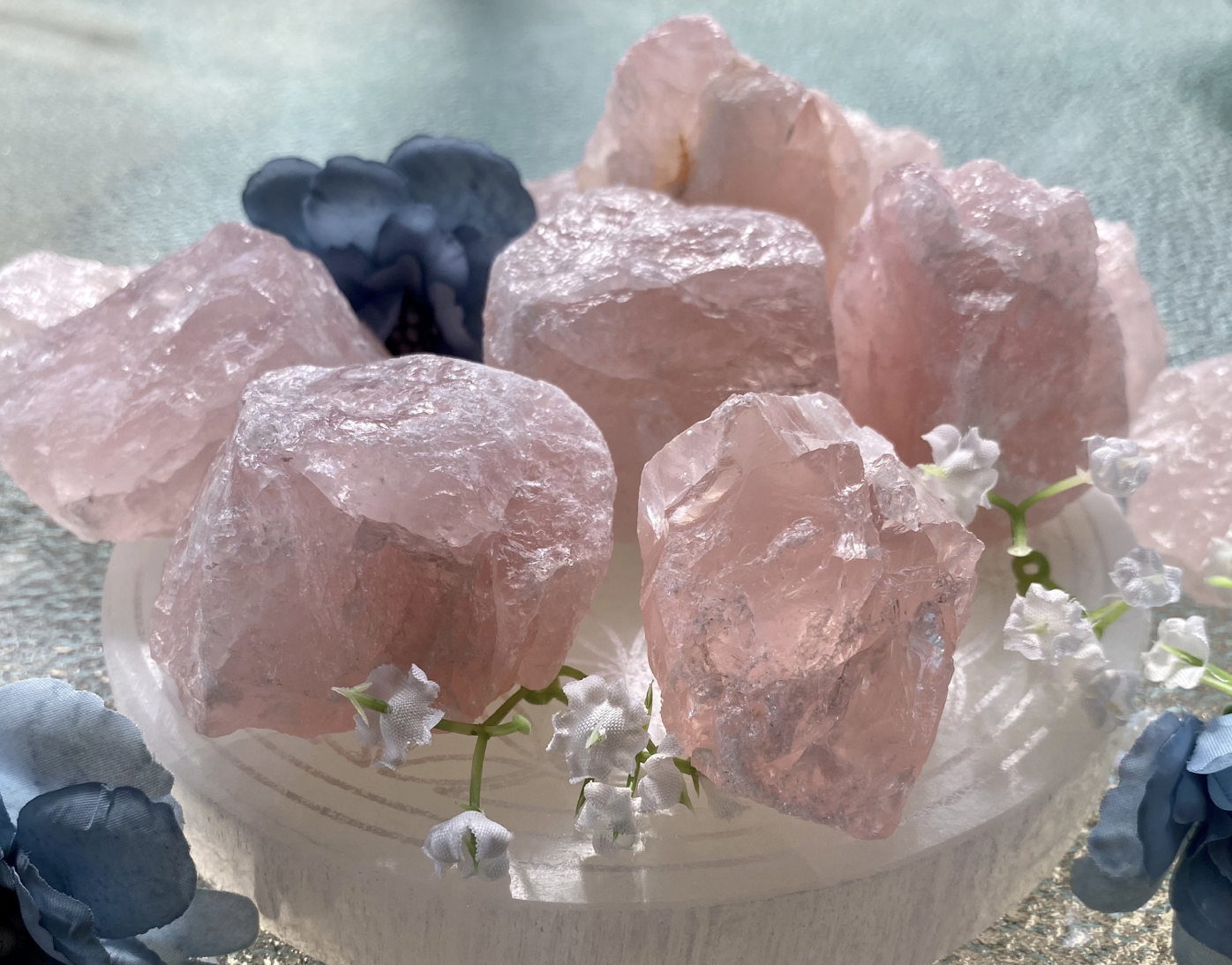 Rose quartz, also known as the stone of love is exactly as the name describes. This crystal has been associated with love since time immemorial. Rose quartz is extremely beautiful and comes in a dusky pink plus a lovely rosy appearance. If you hope and believe in love, you should have this stone in your possession.

Here are some amazing facts about Rose quartz that you will love.
1. State mineral
Rose Quartz was designated the mineral stone of the State of South Dakota. Since this mineral stone was discovered in 1800 near Custer it was declared an official state mineral. That means no named individual can claim ownership of this precious stone.
2. Good luck charm
The number one fact about Rose quartz is it is a good luck charm gem. With this stone, ideas will always be flowing in your mind. That means if you are running a business, it will keep flourishing because you will always invest in new ideas. It is an excellent gem that kindles the intellect such that you will never run out of answers even to the most difficult questions.
3. Prevents ageing
For centuries Rose quartz has been considered one of the most powerful gemstones. Many cultures have been using this stone as a symbol that hinders ageing. You can just imagine how powerful the stone is if it can really stop someone from having wrinkles and all!
4. No need for a regular recharge
Rose quartz is so powerful that you don't need to recharge it often. Inasmuch as you may recharge this stone under the moonlight, it is not a must for you to do so. All you have to do is cleanse this stone in running water and you are good to go.
5. Various names
Rose quartz comes in many names. Shock on you if you thought its other name is only the stone of love. This gem is also known as hyaline quartz which originates from the Greek word 'hyalos' which means 'glass'. It is also referred to as pink quartz.
6. Five-year anniversary wedding gift
Did you know the Rose quartz has been termed as the best gift for a five-year anniversary wedding gift? Well, now you know. However, this is a fact and one of the most popular. Some centuries ago, this stone was the perfect gift for King Ludwig II of Bavaria and Chinese Empress Dowager Cixi.
7. Rose quartz attracts love
Attract love but putting on a rose quartz pendant. You will be surprised at the love offers that will come your way. Rose quartz is already associated with love. Which better way to attract this love if not by wearing a love pendant!
8. For healing purposes
Bush doctors in Australia have used Rose quartz for healing purposes.They believed so immensely in the heart-healing properties of the stone. are the most prominent energy of the rose quartz.
9. Rose quartz symbolism
I bet you didn't know that Rose quartz is symbolic of its pink colour. Compassion, gentleness, love, compassion and femininity are associated with Rose quartz. The fact that this stone symbolizes positive vibes, is a true connection to contentment, passion and lasting relationships.
10. The war of the gods
Legend has it that the Rose quartz was formed at a time when the God of War, Ares assaulted Greek God Adonis. At that time, Goddess Aphrodite went ahead to cut herself on a briar bush when going to save God Adonis. When their blood met on a white quartz stone it stained the stone turning it to a blushing pink.
11. Mothering crystal
Often times Rose quartz is known as a mothering crystal. When pregnant, mothers can place this stone on the stomach. That will create a bond between the unborn child and the mother. How amazing to connect with your baby way before it's born!
12. Notable inner peace
When you feel troubled and lost, the Rose quartz can give you inner. That is a fact that cannot be refuted. If you are looking for spiritual growth, emotional rest and notable inner peace, try the magic of the Rose quartz.
13. Mineral group
Geologists place Rose quartz as a macrocrystalline variety of the mineral Quartz. The formula given for this group is SiO2. According to geologists, quartz is one of the abundant single minerals found on earth.
14. Restful, goodnight sleep
If you have been having trouble sleeping Rose quartz can be of much help. Try placing the stone under the pillow and you will sleep like a baby. Gone will be the nights when you tossed and turned in your sleep.
15. Prevents diseases
When you keep the Rose quartz next to you, it will in preventing heart attacks as well as thrombosis. The stone also offers protection to your chest and other vulnerable body parts. Rose quartz is also known to help in infertility matters.
The message the Rose quartz portrays is exceptional. We are talking of unconditional love, healing, warmth and unending joy. With this stone, you will love life and live it to the fullest. Rose quartz is one of the best gemstones to have in your possession.